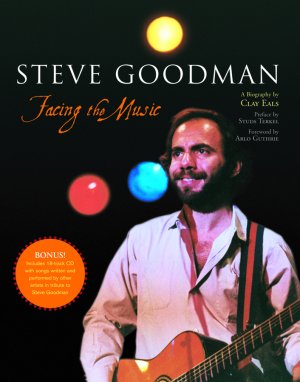 Events Commemorating the New Steve Goodman Biography
A new biography of the beloved singer-songwriter Steve Goodman is due for national release at the end of the month. The author, Clay Eals, researched Goodman's life for eight years. He will be making in-person
events at the Old Town School of Folk Music
in May as well. Pre-orders
are available here
.
Quotes from notable supporters:
Wry, unpretentious and uplifting, Steve Goodman had a special presence with an audience. As this book recounts, he opened 200 shows for me, often for crowds of 10,000 or more. He was just one guy with a guitar, but in 30 seconds he would have them. It was amazing to see, and this biography captures every incredible detail.
- Steve Martin
Clay Eals skillfully narrates the Dickensian life of Steve Goodman, one of the most exciting and refreshing acoustic performers to grace a stage. Meticulously detailed and carefully documented, this biography reads like a riveting novel. Goodman's spirit and charm leap from its pages.
- Rich Warren, host of "The Midnight Special," WFMT-FM, Chicago