Where and when will we meet (and hear) the next Steve Goodman? Obviously, never. But there are new singers and songwriters cropping up among the under-30 generation who are carrying on. Many of them are mighty fine. To wit, Chicago Farmer. Check out his song "The Village" on his MySpace page. Mighty fine indeed.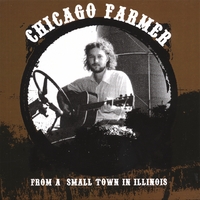 MySpace.com - Chicago Farmer - CHICAGO, Illinois - Folk - www.myspace.com/codydiekhoff
About Chicago Farmer Cody is a folk-singers folk-singer and a poets poet. He was born and bred in Delavan IL, population 25, surrounded by the endless skies of the American Midwest. Before moving to Chicago in 2003, Cody tried his hand at sessions in Nashville and carefully hewed and tested his art in college town bars and honky-tonks around the Midwest.

He now plays regularly in the city and its not uncommon to see whole rooms full of strangers erupt and sing along to the choruses of his songs on their first listen (Ive seen it happen). Codys voice is powerful and gritty, emotionally piercing while subtly imbuing additional layers of meaning and poignancy in his lyrical delivery. His song-writing is deeply rooted in the American Folk tradition and all of its grit but with a post Dylan sense of wit, perspicacity and that certain savior-faire.